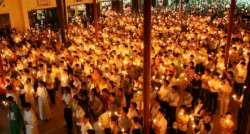 Thousands of Catholics joined in public demonstrations in the Vinh diocese on July 15, protesting government-sponsored violence against Catholics and the desecration of a church.
The demonstrators in Vinh went forward with their plans despite overt efforts by local authorities to intimidate them. Armored vehicles were deployed outside the bishop's residence, menacing gangs patrolled around churches, transportation into the city was cut off, and state-run media predicted a crackdown against Catholic dissenters.
The Catholics of Vinh issued a call for an end to "a series of harassments against Catholics in the region". The most serious incident occurred early in July, when a group of thugs--apparently instigated by local officials-- disrupted a Mass in Con Coung, savagely beat parishioners, and desecrated the church.
(source: Catholic World News)